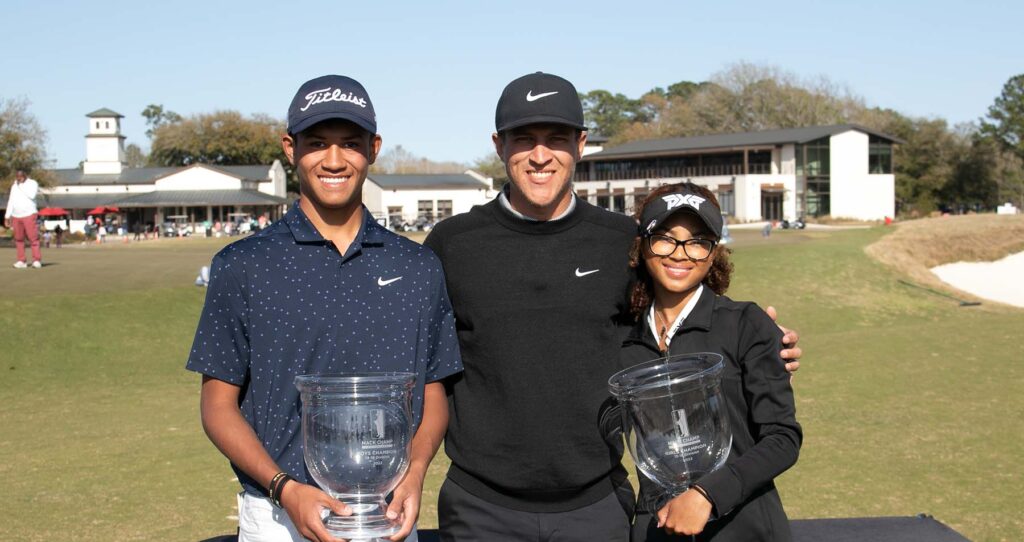 Alona Avery and KJ Ofahengaue won the boys and girls titles at the second annual Mack Champ Invitational with steady performances down the stretch under tough, windy conditions.
The wind was howling all day at Memorial Park Golf Course in Houston, with gusts reaching 45 miles per hour.
Cameron Champ was on hand to watch the final round and was impressed with the juniors' ability to overcome the conditions.
"It was amazing," he said. "This is a great golf course. With this wind and these conditions, it can make an easy golf course extremely hard, and a hard golf course even harder. It just showed how good they are."
Avery, from Riverside, CA, shot 70-78 for a 4-over total and edged Shyla Brown of McKinney, TX, in a one-hole playoff in the girls 13-18 division. Avery's sister Amari won last year's MCI and now plays at the University of Southern California.
Brown appeared to have the tournament locked up, but she finished with a double bogey on 17 and a bogey on 18 to fall back into a tie with Avery, who parred the final three holes. Avery then won the playoff on No. 1, making par 5 to Brown's 7.
Ofahengaue, from Lehi, UT, finished with five straight pars to shoot 73. His 1-over total for the tournament was good enough to beat Trey Rusthoven from St. Peters, MO, by a shot. Roman Solomon, last year's boys champ, finished five shots back after shooting 79 on Sunday.
Ofahengaue is a cousin of Tony Finau's and had two brothers playing in this year's MCI.
Axel Monssoh from Miami, who also won his age division last year, shot 5-over 77 for an 8-over total to win the boys 11-12 division by six shots. Myla Robinson from Eastvale, CA, won the girls 11-12 division with a 10-over total after shooting 75 on Sunday.
The Mack Champ Invitational was created to honor the legacy of PGA Tour pro Cameron Champ's grandfather, who introduced Cameron to the game. The tournament seeks to identify and boost the prospects of elite junior golfers of diverse backgrounds. This year's field had players from all over the country as well and England and the Bahamas, and 15 players in the field have commitments to play college golf.
Asked what his grandfather would think if he were alive to see this tournament, Champ said Mack would have been thrilled.
"He'd be laughing, cracking up. He'd be so excited. I don't think he ever would have dreamed of anything like this happening in his name. For us to continue his legacy and to create a fun environment for the kids to come enjoy and hang out, it's just awesome to see."